Back to Events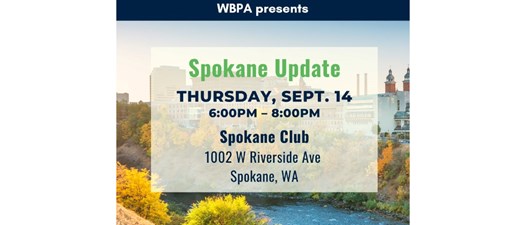 Signature Spokane Event
Thursday, September 14, 2023
* Registration open until 9/14/23 at 8:00 PM (PST)
Event Details
Friends,
We're excited to announce that the WBPA will be hosting a big event in Spokane. They say all politics is local and the elections in Spokane this year are critical to our industry as anti-property rights policies are sprouting up in the Inland Empire. We must take a stand.
You're invited to our Meet & Greet with great candidates who will support our industry! Please join us Thursday, Sept. 14 in Spokane.
Thanks to our strong advocacy team and valued members, we:
Defeated six rent control bills
Stopped the legislative natural gas ban
Saved our industry $2.3bn in real estate excise tax increases
Kept real estate out of the capital gains income tax
We need your support more than ever to help elect leaders that are willing to do what's right. Join the fight to restore property rights in Washington.
We look forward to seeing you there!
---
Questions? Comments?
We are here to assist you! Please contact our main office with any questions
or concerns and we'll be in touch!
For More Information:

123 Fir Street Northeast
Olympia, Washington 98506
360.205.2345
---
FEATURED GUESTS
Mayor Nadine Woodward
Councilmember Michael Cathcart
Candidate Kim Plese
The Spokane Club
1002 W Riverside Ave, Spokane WA
Thursday, September 14, 2023
6:00 PM – to 8:00 PM
---