Back to Events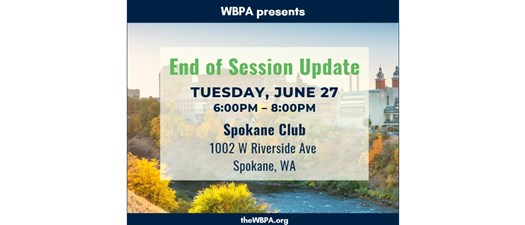 Signature Spokane Event - Celebrate Our Victories!
Tuesday, June 27, 2023
* Registration open until 6/27/23 at 8:00 PM ()
Event Details
This was an exciting 2023 Legislative Session and we'd like to celebrate our victories with you. Chester Baldwin, CEO and Executive Director, gives his insight of what bills we see coming back in 2024. You're invited to this signature event that's just two weeks away. You won't want to miss this.
---
The Spokane Club in Spokane WA
Tuesday, June 27, 2023
6:00 PM – to 8:00 PM
---
The Washington Business Properties Association accomplished great things this session. Learn what you can do to be part of our fight to restore property rights in Washington.
For More Information:

123 Fir Street Northeast
Olympia, Washington 98506
360.205.2345
---
Questions? Comments?
We are here to assist you! Please contact our main office with any questions or concerns and we'll be in touch!